Joanne Anderson, the beloved wife of Dr. Neil T. Anderson, passed away October 2 after a lengthy illness. They were partners in marriage and ministry for over 52 years. The family will receive friends on Friday, October 12 from 10:00 AM-11:00 AM at Williamson Memorial Funeral Home, 3009 Columbia Ave., Franklin, TN, 37064, where a funeral service will be held at 11:00 AM. Memorials may take the form of donations to Freedom in Christ Ministries, 9051 Executive Park Dr. #503, Knoxville, TN 37923.
A tribute to Joanne Anderson by Steve Goss, International Director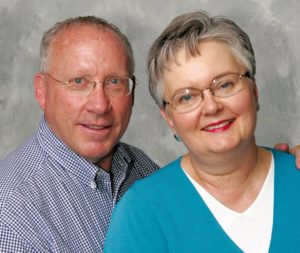 I first met Joanne Anderson in 1999 and warmed to her immediately. She was first and foremost a great wife, mom, grandmother, and proud owner of shih tzus, but also found the time to take an active role in Freedom in Christ Ministries and especially to take many people through The Steps to Freedom in Christ. By the time I got to know her, Freedom in Christ Ministries was already 10 years old so here's an excerpt from a piece that Ron and Carole Wormser, long-time friends of Neil and Joanne, wrote about them that goes a little further back:
"When they became Christians, they did not seek leadership roles, but served humbly in endeavors like leading a group of teens to Campus Crusade's Explo '72 and sleeping on the floor of an unfurnished apartment. Their years in the pastorate evidenced trust in God and sacrificial caring for their flock rather than striving in their own effort for personal merit, and often seeing God's miraculous provision.
At Biola University, God formed the message of freedom in Christ in Neil's heart, and his love for the classroom and teaching extended to the personal lives and needs of his students. This led to private counseling with individual students about their personal and spiritual needs, resulting in growing popularity of his classes and increasing enrollment.
While maintaining a full schedule at Biola, Neil and Joanne began to take the message of freedom off campus to evening and weekend events, and summer conferences.
The message of freedom in Christ continued to prove itself as life-changing and vitally important for the Church. Neil and Joanne felt no personal impulse to form a ministry, but others did, and through their influence Freedom in Christ Ministries was born.
Joanne was the perfect partner for Neil. He, of course, is an "up-front" person while she tended to stay in the background. But she was in no sense the shy and retiring type and she made sure that Neil's feet stayed firmly on the ground as his ministry became ever larger and better known. Her role in establishing Freedom in Christ Ministries and making it what it is today cannot be underestimated.
She was highly intelligent with a double major in food and nutrition – and at one time she presented a live TV cooking show twice a week. Joanne would proofread all of Neil's writings and give them a critical appraisal too. She wrote Daily in Christ with Neil, one of the ministry's most enduring titles. It's still in print and the content forms the basis of daily devotional e-mails that are still sent out to thousands every single day.
She was a prayer warrior with a clear gift of discernment. For potential new recruits, there was a thing known as "the Joanne test" – almost as soon as she had met you, she just seemed to know whether you were right for the ministry or not and was unfailingly correct. Having apparently passed the Joanne test myself, she gave me a couple of sentences of wisdom that have stayed with me and proved so helpful: "Be very careful in this ministry. There are always so many needs and, if you do not watch yourself and make sure you rest, you will burn out."
What I liked most about Joanne was her mischievous sense of humor, ready wit, and lovely laugh. She loved to visit "jolly old England" and we loved having her. She knew far, far more about the British royal family and the history of my country than I ever will. Once she stayed in the UK while Neil ministered elsewhere in Europe. Asked what she wanted to do, she said, "Go and get a curry – because Neil hates them, and I can't do it when he's around!"
The last six years have been difficult as Joanne succumbed to illness and her health gradually declined. Yet it has provided a picture of love in marriage like no other as Neil devoted himself to caring for her. He visited her three times daily in her care facility and in recent months, having brought her home, cared for her almost singlehandedly until her passing.
The fruit of Neil and Joanne's ministry is measured not just in hundreds or thousands of changed lives but in hundreds of thousands, even millions of changed lives.
What a lovely lady Joanne was and what an incredible legacy she leaves.